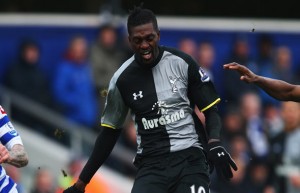 A few hours to face his former club in the Premier league, here is a statement from Emmanuel Adebayor to add fuel to the fire between the two teams. The derby this Sunday between Tottenham and Arsenal looks hot and the Togolese has only one desire: to beat the Gunners and finish them before the end of the season.
"When I was at Arsenal, my job was to score goals set for today I am at Tottenham and I have to help the team finish in the Big Four. We have a great chance this season to finish above them and I think they will not deny it, "said Adebayor, author of three goals for the Spurs this season and highly criticized.
"We all remember what happened at the end of last season. We must not make the same mistake. Each season, Tottenham has improved and we must continue like this. This is a great opportunity for me especially to show everyone that I was right to leave Arsenal. This finishing ahead of them in the standings, "said he added.
Tottenham is third with 4 points over Arsenal and has not finished before the Gunners since 1994-1995 seasons.
Read also:
http://en.africatopsports.com/2013/02/26/happy-birthday-to-emmanuel-sheyi-adebayor/