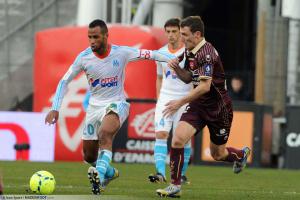 Beaten by PSG at the 26th day of Ligue 1 and Coupe de France on the same score of 2-0 Olympique de Marseille came to a halt in the rankings.
Two losses that will put doubt in the minds of supporters of the Phoenicians. But Jacques Romao Alaixys remained optimistic:
"This has not sealed the atmosphere in the dressing room but it took a blow to morale. Even making good games, we do not necessarily win; it's just the result that counts: take points, no matter how. We don't get the time of gamberger, or ask too many questions, because the match against Troyes is important, "says L'Equipe on Sunday
The Togolese midfielder and Marseille will face at the Velodrome, Troyes. Baup Elie and his family are relegated to third place following the victory of Saint-Etienne against Nice (4-0).
Read also:
http://en.africatopsports.com/2013/02/24/alaixys-romao-beckham-he-is-just-like-me/