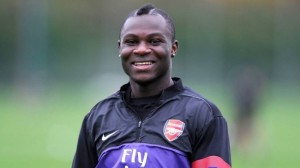 According to the London Evening Standard Fulham would extend the loan Emmanuel Frimpong, the Arsenal midfielder.
The club Fulham manager said he was satisfied with the loan of the Ghanaian international Emmanuel Frimpong.
Martin Jol is willing to make a loan application for another midfielder who belongs to Arsenal.
"He is loaned for the meantime and he would probably be very expensive to take [finally, note], but if there was a possibility of taking a loan again, I probably will."
In other words, Emmanuel Frimpong could remain at Craven Cottage until June 2014. Such an experience could allow him to glean playing time and come back stronger at the Emirates Stadium the year that will take place, it will be recalled, the Brazilian World Cup.
For the moment, the Ghanaian made an appearance in the team of the Cottagers.
Arrived at the age of 9 years at Arsenal, Frimpong, the 21, has struggled to establish himself in the number of the Gunners. The Ghanaian still waiting for a new contract offer while his current lease expires at the end of the season.