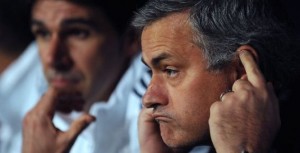 Difficult to design a classico Real Madrid- FC Barcelona without incident coming off the bench coaches.
The Portuguese coach Jose Mourinho, faithful to his bad habits which are further illustrated this Saturday.
Although Real Madrid dominated the match (2-1), the "Special One" did not appreciate the fault of Dani Alves on Cristiano Ronaldo. Mourinho explodes and as you can imagine, he insults the player "filho de puta" (son of a ****).
In 2011 in conjunction with the Super cup, the Portuguese coach had put his finger in the eye of Tito Vilanova.