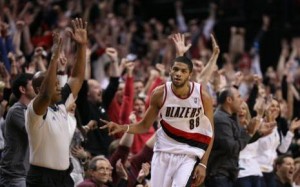 Seven teams were activity last night in the NBA.
As is custome, the League established at the end of the day, the ranking of the best actions.
360 ° Monta Ellis (in the narrow victory of the Milwaukee Bucks on the Utah Jazz, 109-108) to the specialty Nuggets (against the attacks), this is a top ten of the game with different actions.
But the one who won the palm is Nicolas Batum Portland. "Batman" used the board to deliver a pass to Meyers Leonard.
Watch the video of top ten alley-oops of Batum and Leonard.
http://www.youtube.com/watch?feature=player_embedded&v=95atJk8uk1I