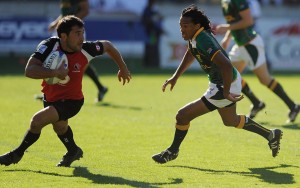 The pools draw for the World Cup of Rugby 7s which will be held next June in Moscow is known. Africa that will be represented by four teams in men and women is not very polished. Men in group A, Tunisia will be alongside France, Spain and Australia.
South Africa should be favorite in Group B with Japan, Scotland and Russia. Pool C contains two teams of the continent: Kenya and Zimbabwe, as well as Samoa and the Philippines.
For the ladies, Tunisia will also be in the group with Canada, New Zealand and the Netherlands. South Africa is housed in Group B with Australia, China and Ireland.
Men's Competition:
Pool A: Australia, France, Spain, Tunisia
Pool B: South Africa, Scotland, Russia, Japan
Pool C: Samoa, Kenya, Zimbabwe, Philippines
Pool A: New Zealand, USA, Canada, Georgia
Pool E: Fiji, Wales, Tonga, Uruguay
Pool F: England, Argentina, Portugal, Hong Kong
Women's Competition:
Pool A: Canada, New Zealand, Netherlands, Tunisia
Pool B: Australia, South Africa, China, Ireland
Pool C: USA, Spain, Brazil, Fisji
Pool D: England, Russia, France, Japan