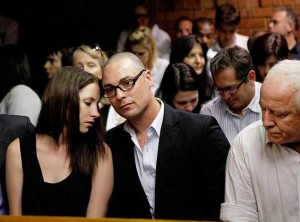 These words in the Daily Telegraph on the reasons for the detention of arms of the family obviously did not please the Pistorius family.
In a statement released Tuesday, the Pistorius family explained that patriarch Henke is the solely responsible for his statements: "The interview of Henke with the newspaper had not been approved by our team of media relations, namely the fact statement. These comments do not reflect the opinions of Oscar and the rest of the family Pistorius, who has weapons for sport and hunting. "
The family is disconnected from the father, believing that these statements could prejudice Oscar Pistorius under investigation.
The South African athlete accused of murdering his girlfriend on February 14 is currently on bail. His trial began on June 4.
Read also:
http://en.africatopsports.com/2013/03/05/south-africa-pistorius-father-accused-of-racist-slur/