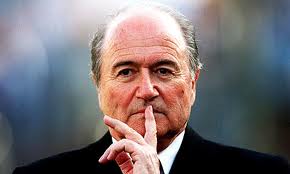 Ghanaian midfielder  Kevin-Prince Boateng who tore his shirt and walked off the field at the opposite end after suffering a couple of racism earlier this year  whiles playing against fourth division Pro Patria made the headlines in January.
Kevin's leaving the pitch had the players and officials following him off the pitch and also suffered some discrimination for leaving the pitch.
Later on Kevin demanded that" FIFA must do more."
The FIFA President praised Boateng for making a "strong and courageous stand."
Kevin is said to meet FIFA president Sepp Blatter  schedulded for 22nd March in Zurich.
Read also:
http://en.africatopsports.com/2013/01/06/serie-a-prince-boateng-says-fifa-must-do-more/
http://en.africatopsports.com/2013/01/05/serie-a-kevin-prince-boateng-leaves-pitch-after-suffering-racist-abuse/