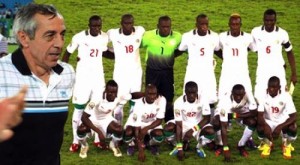 Senegal could fall back on another country for s third match of the day of qualifying for the World Cup Brazil 2014.
Following the suspension for one year from the stadium (Stade Leopold-Sedar-Senghor) as reasons for incidents that marred the match between the Lions and Elephants (NDRL, second leg of the third qualifying round of the Afcon 2013), the Senegalese authorities had opted for Guinea for home games.
But the socio-political climate prevailing in Guinea pushed Senegal to consider a plan B. "(…) If the violence continues and that is in a situation of force majeure, of course with FIFA, it will be to move this match to another country. It will also be in the sub-region, unfortunately, "said the president of the Senegalese Football Federation (FSF), Mr. Augustin Senghor.
According to the BBC, the stage would be the substitution of Morocco.
The Guinean authorities have planned to mobilize nearly 1,500 police for this game. But, if the stain continues in Conakry, Alain Giresse and his gang will receive the Palanca Negras of Angola in Morocco, March 23.
After two games of the second round of the playoffs of world cup 2014 in the Africa region, Demba Ba and his teammates are leading group D with 4 points. Angola ranks third in the Pool with 2 units in front of the Liberia red lantern.