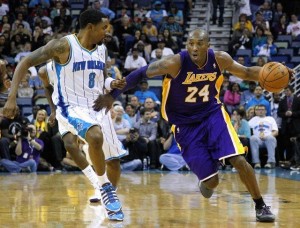 Kobe Bryant quickly stored in cabinets his physical problem to put the Lakers back on track for victory.
He scored 42 points, helping the Los Angeles Lakers overcome a 25-point deficit to escape with a 108-102 win over the New Orleans Hornet.
The Lakers (31-31) held New Orleans scoreless in the final 6:47 of Wednesday night's game, finishing on a 20-0 run that stunned the more than 16,000 fans at the Arena.
Bryant scored 13 points in the final 8:48 of the game, igniting the improbable comeback. He finished with 12 assists and seven rebounds a night after injuring his right elbow in a loss to Oklahoma City.
New Orleans (21-41) carried a 93-75 lead into the fourth quarter by out-rebounding the Lakers by 17 through the first three quarters and holding Los Angeles to 44 percent shooting. But the Lakers went 12-for-19 in the fourth quarter while holding New Orleans to just 17 percent shooting and the Hornets lost for the seventh time in the past nine games. In the second half, when the Lakers came back, Dwight Howard who finished with 20 points and 15 rebounds contributed 13 points, 12 rebounds and three blocked shots.
The Hornets have seen this before. Two nights earlier, New Orleans led the Orlando Magic late, only to be outscored 17-5 in a three-point loss. And on Feb. 22, New Orleans gave up an 8-0 run in the final 55 seconds to Dallas to lose by four points. New Orleans' Greivis Vasquez had 15 points and 12 assists, Al-Farouq Aminu added 12 points and 16 rebounds and Eric Gordon put up 18 points. Los Angeles' win, combined with Utah's 104-101 loss to Cleveland, brings the Lakers to within 1 1/2 games of the Jazz for the eighth seed in the Western Conference.
Watch the video below…