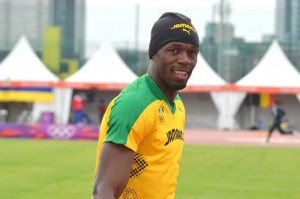 The sprint specialist expected to compete, along with Beijing Olympic silver medallist Kerron Stewart, Olympic record-holder Melanie Walker, London Olympic bronze medallist Hansle Parchment and London Olympic relay gold medallist Chris Brown, in the second annual Cayman Invitational track and field meet an event organised by our very own Commonwealth Games gold-medal sprinter Cydonie Mothersill.
It's not just because of the famous Jamaican sprinter's scheduled appearance, but Mr. Bolt's arrival and competing on these shores will help accentuate a message that the Cayman Invitational is fast becoming an important event on the yearly athletics calendar.
Much has been made over the past few years, during times of economic austerity, about how much the Cayman Islands government has spent on various items; whether it be for "nation-building" or trips to Sri Lanka and Doha, Qatar, or for the Elite Athletes programme. Some of these programmes and expenditures have found many critics among the public.
"I'm looking forward to racing in the Cayman Islands on May 8 I have never raced there before, but my coach was there last year and told me the greater good, "Bolt said in a statement relayed by the IAAF.
However, in this case, we must really say that the government's investment in Cydonie Mothersill over the years as part of the Elite Athletes programme has paid off handsomely both on and off the track.
Beyond her considerable abilities and achievements as a sprinter, Cydonie we believe embodies the true spirit and purpose of the Elite Athletes venture. That is, she is a representative of the Cayman Islands, accepting all the responsibility that entails and making her country a good return on its investment. In this case, she has started an event that could mean big-time exposure for Cayman for many years to come and has convinced a number of her athletics colleagues to participate.
The value of this event to the Cayman Islands is well worth the $75,000 Premier Juliana O'Connor-Connolly said government has contributed to
sponsor it.