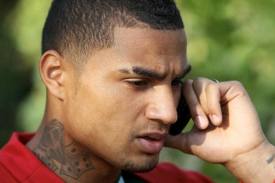 26-year-old Ghanaian midfielder who suddenly retired from the Black Stars has come out for the first tim to say 'Ghana made me a world star.'
Kevin – Prince Boateng who plays for AC Milan retired from the Ghana Black Stars just one year after playing for the national team which aided him securing a move to Milan.
"Only three years ago I realised what I am capable of and what level I could reach," Boateng conceded and revealed that he didn't have any focus before he played for Ghana.
    "Beforehand I was only a football player, I loved to play football but I was a child, I was young and I did many things you shouldn't do. So what could I say to a young player? It is difficult.
    "If you are thrown into a pool full of money and you are playing in front of 80,000 people, it isn't easy, it wasn't easy for me. It was difficult.
"The only thing I can recommend is to keep your feet on the ground and keep working hard. That is the most important thing."
However, the footballer has drastically improved from what would have been the end of his football career in England as he now makes great goals for AC Milan.
Read also:
http://en.africatopsports.com/2013/03/06/fifa-sepp-blatter-to-discuss-racism-with-kevin-prince-boateng/