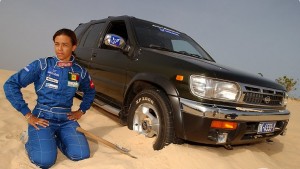 Sindiely Wade was the Special Adviser of the Head of State of Senegal of whom she is the daughter, particularly in terms of culture.
Sindiély Wade is taking it easy in Morocco, where she usually takes part in the Rallye Aicha des Gazelles, in March.
The Rallye Aïcha des Gazelles du Maroc is a rally which is held in the deserted parts of southern Morocco. The distinctive feature of the rally is that participation is restricted to women only.
Sindiély is a passionate of motosport and she participated also in the Paris-Dakar Rally.
In 2011, she won the Rally in the category 4WD with her co-equipper Carole Montillet on Nissan Springbok
Sindiély, the only daughter of the former Senegalese President of the Republic is still unknown Senegalese people.
Sindiely will be one more time taking part to this rally this year.
Read also: