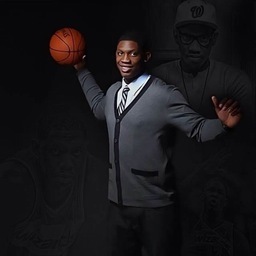 While his early season was promising, the minutes have been falling for Kevin Seraphin for some months.
Since the return of John Wall, Wizards coach prefers often involve pairs Chris Singleton / or Trevor Booker Nene / Emeka Okafor. Hard to swallow for the one who turn to 9.6 points and 4.7 rebounds on the season in twenty minutes.
Exploded after the end of last season with the Wizards, the Guyanese did not hide his opinion unhook the Most Improved Player trophy. Struggling early in the season, as well as his team, the backbone of Washington seems to have finally regained its footing.
In an interview with basketsession, the Caribbean returned to his season and future :
"It really starts to run well and we have fun between us. This is not the same team that season. We have well shackled. Now when we moves, the other teams still fear of us."
"I've had ups and downs. It is difficult because rotations inside are never the same so you are looking for your place. I know my role and my place but there is nothing constant and regular. The coach looks for good rotations so he tests several things. '
"I am fully part of the team now. Before I focalisais on defense but this is something I learned when I was young. When you're pro, you have to prove in order to win defense balloons attack."
"I see from the way opposing teams defend on me. There is very often taken at two. It leaves me no time to even take one or two shots to see if I'm hot. That means I'm much more threatening. So I have to adapt, it is not obvious. But it makes me happy to know that they consider me as a threat."
"I have some thoughts for the France team, but I try to be as much as possible in my season. And then there is also the rest of my career. I would like a true leader in my current team but if I move, I will. For now, I'm not there."