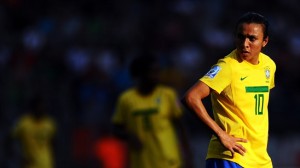 Marta is not only one of the most well-known footballers on the planet, she is also considered by many experts to be the finest exponent of the women's game. Anyone who has witnessed the Brazilian in action will understand why she has been nominated for the FIFA Women's World Player of the Year award nine times in a row and won it on five occasions. Not even the likes of Lionel Messi can compete with that record.
"It's always special to come to Zurich," Marta told FIFA.com in an exclusive interview. "It's exactly the kind of situation every professional sportsperson dreams of: receiving a prestigious honour after a long, hard season"
Marta knows what she is talking about. The striker, who currently laces her boots for Tyreso FF in Sweden, could hardly have wished for a more dramatic finale to the domestic Damallsvenskan. Malmo looked certain to win a third consecutive league title going into the last match of the campaign against Tyreso, only for Marta and Co to turn on the style and earn their side a maiden championship trophy.
Championship joy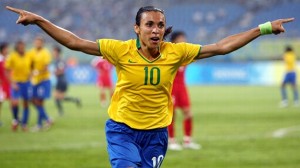 "The chance to come back to Sweden and play for a club that only returned to the top flight in 2009 was a special moment for me," the 27-year-old said. "The last match (against Malmo) was so tense. I hadn't experienced anything like it in a long time. The way the people were going crazy in the stands and the way the players celebrated afterwards was definitely the highlight of 2012 for me."
Canada 2015 in sight
Marta keeps a close eye on other women's leagues around the world too, including the German Bundesliga. "I had some offers a couple of years ago," she said, grinning. "It's definitely a great league and I think it's among the strongest there are, along with Sweden. Germany's a country that loves women's football and it's certainly a good option."
"I wasn't satisfied with our performance at all, not with me, my team-mates or the coaching staff," Marta said of her side's efforts at London 2012. "We really wanted to go a long way and be fighting for a medal, but it didn't happen. However, we know that with the talent in our team we'll get more chances. Now we need to work hard in order to qualify for the next tournaments, especially the World Cup in Canada in 2015. We'll be better prepared than we were in London."
Read also:
http://en.africatopsports.com/2013/03/07/uefa-womens-champions-league-final-faye-white-looks-ahead/