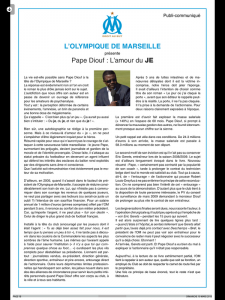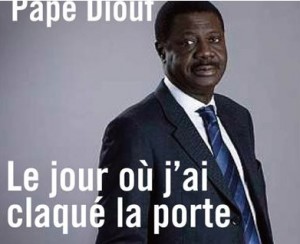 What a story! Africa Top Sports.com as reported that the club of Marseille did not, but not appreciate the book the Pape Diouf recently published by Grasset Editions in France.
Suddenly, the OM club just offers a full page of ad in the team, and he replied! Remains a full page in the Team expensive, very expensive! Some speak of 80,000 euros and consider this communication as a disproportionate investment …
Here is the text!
"Olympique de Marseille introduces Pape Diouf: I love the game. The former journalist and players' agent has just published a biography entitled "This is more than a game."
"Everything is there: the distorted perception of certain events, amnesia, a bit of paranoia and a healthy dose of megalomania"
"The door, he did not slam it. It was taken at the request of the shareholder. For two reasons. The first is to have detonated payroll (+140%) in the space of 60 months. Pape Diouf, so quick to denounce the mismanagement of others provides surprisingly almost any figure on its own. The second reason is that his ouster was unable to keep Eric Gerets, coach during the 2008-2009 season "
"OM wishes to recall that, whatever its function, an employee of the club must abide the roadmap set by the owner"
And wham!