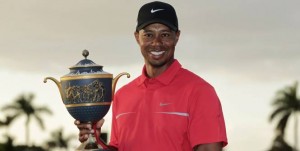 Tiger Woods has won the WGC Cadillac Championship on Sunday Doral "Blue Monster" in Florida.
Woods had built up enough of a lead over the first three rounds of the WGC Cadillac Championship that he could afford to be a bit off his game.  After rounds of 66, 65 and 67 he was at eighteen under par and held a four stroke lead over Graeme McDowell at the start of the final round.
McDowell also looked average and his par 72 round never threatened Woods.  Adam Scott made a valiant charge with a day's best eight under par 64 but started much too far back to be a contender.  Phil Mickelson looked to be a threat early on with birdies at the first and second holes but Phil being Phil found ways to self-destruct and limped home to a one under 71.
This is Woods' second win in 2013 in only four starts.  The swing changes appear to be second nature now and his short game and putter have finally come around.
Last season when he won three times on tour he ranked 102nd in greens in regulation from 100-125 yards.  His game needed help but he was still able to win. But this season he leads the tour in that category and it is paying off in a big way.
This win will once again ignite the "Is Tiger Back?" debate but regardless of all the rhetoric Tiger's game is as solid as it has been since 2008.  Does that mean he'll win half a dozen tournaments and add a few more majors to his chase of Jack's 18?  We'll see.
What is does mean is that Woods is at his most confident since he limped off Pebble Beach after winning the 2008 U.S. Open and that doesn't bode well for the rest of the players trying to take him down.