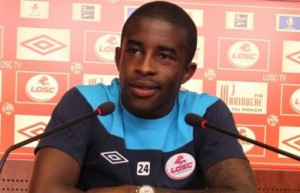 Absent from the field for the month of January following his left knee surgery, the  Lille captain Rio Mavuba hopes to strike for the "money time".
He is in fact in the second phase of his recovery: "Since February 22, I started a second phase which  is to gradually resume the physical activity. I hopefully wish to get back into the race within a week or two, "said the captain on the club's website.
The Lille midfielder sees himself is finding himself in the competition by the end of April "I hope reasonably to be on the field late April or early May, just before the final sprint in the" money time ". I cannot wait, because I miss the ground terribly. "And the French international to continue "(…) who knows, maybe I will mark that famous goal that will qualify us for Europe."
Currently 6th in League 1, the Mastiffs were invited in the battle for European places at the price of a good comeback in the standings.
Read also:
http://en.africatopsports.com/2013/03/05/lille-mavuba-i-think-of-coming-back-in-the-late-april/