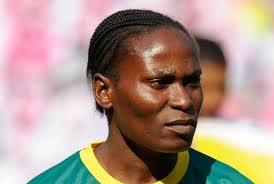 Noko Matlou is a Professional Football Player born on October 7, 1986. She has earned the reputation of being able to score from every position.
She has already won awards in Africa. Indeed she is the only South African football player to win the title of the best footballer of the year 2008 after a superb performance and finishing best striker of the Ladies Afcon with 6 achievements. She is well known.
Today, attacking at the University of Johannesburg, RSA, Noko Matlou shows up as the favorite of the category "African footballer of the Year" at the 2012 Africa Top Sports Awards .Will she backslide? Her performance may anyway convince the jury.
Matlou Performance:
She has the reputation of scoring in any position. She scored 40 goals in 45 games, almost one goal per game for the national team, reflected his sense of purpose. The South African striker participated this year in the women's tournament for the 2012 Olympic Games in London. She is nicknamed "beep beep" because of her speed. Still physically developing, her presence in Bayana Bayana group plans a good omen for victory.
More distinctions:
She also won the awards of Cosafa (Confederation of South African Football Association) having scored 14 goals in just 5 games at the end of the competition.
In 2011, she was awarded the Sportswoman of the Year in South Africa. The player of 27 years must evolve beyond the borders, but she has this project later because of her transportation management study at the University of Johannesburg.