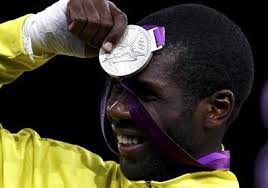 Anthony Obame, born on September 10, 1988 in Libreville from a family native of Oyem (northern Gabon)  is a taekwondo practitioner.
Obame is currently coached by former two-time world champion Juan Antonio Ramos.
Career
He started taekwondo at the age of 6, when his father enrolled him in the club of the Gabonese Air Force. Shortly before the tray, he flew to France and the Resource Center of expertise and sports performance (Creps) in Toulouse.
He studied sports management. He was assisted by the Gabonese Federation, but also by the French federation through an agreement between the two structures.
This taekwondoïste became the first medalist at the London Olympics in 2012. "I am very happy for the people who always waited and dreamed of having a medal. It's amazing what happens to Gabon. "
Palmares
– January 2012: African taekwondo champion in Cairo.
– 2012: Jo of London, silver medalist