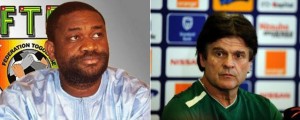 You found out last Monday. The Togolese coach Didier Six is back in a standoff with the FTF (Togolese Football Federation) on his list of players summoned to face Cameroon. Within the framework of the World Cup 2014 qualifying.
Didier Six issued a list of 24 players, forgetting Emmanuel Adebayor and Kossi Agassa. The absence of the latter is due to the sharp criticisms to the French technician right after the elimination of Togo to the Afcon 2013. Six preferred to call Farid Zato, player evolving in Iceland and a certain Jean-Luc Perlas, unknown to the public and playing for an obscure third division club in Switzerland. Recalling at the same time one of his darlings, Thomas Dossevi, always looking for a club.
Due to the importance of the match against the Indomitable Lions, the FTF has taken it upon itself to edit this list and return Adebayor and Agassa, executive of the selection. Suddenly, the publication of the list is slow because the coach does not want to work with the players he has not called. And it continues as usual in Togolese football.
Didier Six list
Goalkeepers: Atsu Mawugbe, Baba Tchagouni
Defenders: Dare Nibombe, Sadat Ouro Akoriko, Djen Dakonam, Serge Akakpo, Gafar Mamah, Vincent Bossou, Kokou Donou
Midfielders: Komlan Amewou, Moustapha Salifou, Floyd Ayité, Alaixys Romao, Kodjo Amétépé, SAPOL Mani Dové Womé, Farid Zato, Thomas Dossevi
Forwards: Serge Gakpe, Kalen Damessi, Jonathan Ayité, Jean-Luc Perlas, Atakora Lalawele, Fessou Placca
After  FTF review
Goalkeepers: Kossi Agassa, Atsu Mawugbe, Baba Tchagouni
Defenders: Dare Nibombe, Sadat Ouro Akoriko, Djen Dakonam, Serge Akakpo Gafar Mamah, Vincent Bossou, Kokou Donou
Midfielders: Komlan Amewou, Moustapha Salifou, Floyd Ayité, Alaixys Romao, Kodjo Amétépé, SAPOL Mani Dové Womé, Farid Zato, Thomas Dossevi
Forwards: Serge Gakpe, Kalen Damessi, Jonathan Ayité, Emmanuel Adebayor
Read also
http://en.africatopsports.com/2013/03/11/didier-six-and-the-togolese-football-federation-still-in-conflict-for-a-list/