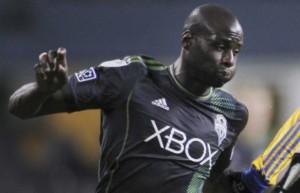 Djimi Traoré is exceptional. So having just engaged in MLS with the U.S. team Seattle Sounders, the Malian was one of the men of the match on Tuesday against Tigers in the quarter-final of the CONCACAF Champions League (0-1, 3-2).
On a splendid shot from the left, he scored the second goal of his team.
The Seattle Sounders have eliminated the Mexican UANL Tigers.
1-0 defeat in Mexico last week, the franchise of the State of Washington had started the game badly, giving way to the opening goal in the 23rd minute by Elias Hernandez.
But the Sounders responded to great effect by successfully registering the 3 needed goals to qualify, and what goals! Extraordinary strikes from afar and another goal then from the Malian international.
[youtube]http://youtu.be/ObZVcMYxWXQ[/youtube]