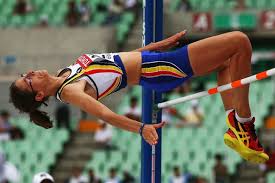 When the bar came crashing down, the pain on her face told more than just the story of elimination from the European Athletics Indoor Championships in Göteborg.
But missing out at 1.87m was not just the end for Tia Hellebaut in the high jump in Sweden; it was the end of her fabulous career.
On Wednesday morning, Belgian Hellebaut, the 2008 Olympic champion, announced her retirement from the sport.
At 35, the mother of two has decided to bring an end to her career because the time is right and it is all about balancing the aspects of her life.
Hellebaut said: "This is a good time to stop. I can no longer challenge myself mentally in competition."
She had jumped 1.97m in February and spoke in Göteborg after her qualification about her hopes, but also hinting of retirement.
As she said: "Up to now the season is going well. I am 35, I have two children and I have nothing to lose anymore.
"My body is still fit; I still like to do what I am doing.
"The moment I have a feeling I am not able to go for the medals anymore, I will stop immediately and do something else."