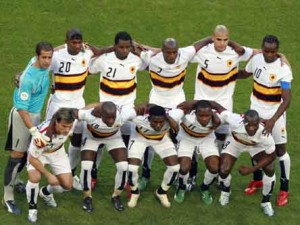 For moving of Angola to Conakry to face Senegal, the Angola Federation convened a list of 22 players.
The Palancas Negras group is virtually constitued of players who played the 2013 AFCON football out in the first round in Group A including South Africa, Cape Verde and Morocco.
The List
Goalkeepers : Hugo, Jotabe, Landú.
Defenders : Amaro, Bastos, Dany Massunguna, Fabrício, Gomito, Mabiná, Miguel.
Midfielders : Ito, Job, Manuel, Mingo Bile, Pirolito, Vado.
Strikers : Antonio Vado, Djalma, Geraldo, Guilherme Afonso, Manucho, Mateus, Vado, Yano.