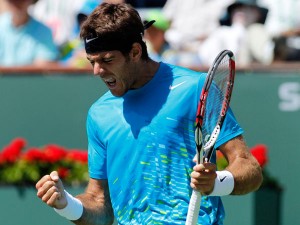 In california for the 1000 Masters of Indian Wells, the head of the serie No. 7 Juan Martin Del Potro expressed his joy at seeing his compatriot Jorge Mario Bergoglio become the 266th pope (the first non-European) under the name of François 1st.
"We are all so proud of him," said del Potro, who like many Catholics around the world had kept an eye on the papal election conducted at the Vatican, even as he went about his normal business.
In del Potro's case on Wednesday, that was a brisk fourth-round victory over Tommy Haas to reach the quarter-finals of the Indian Wells hardcourt tennis tournament.
"I wish all the best to him. I think he's going to do his work perfect. I wish the best for him and I'm very Catholic, so I like this new decision," said del Potro.
The 2009 US Open champion, nicknamed 'Delpo' said he'd like to have a chance to meet the first Latin American pope, perhaps when he plays in Rome.
"For me and for our country and for Argentinian people, it's so big," he said.
Short side, the No. 1of Argentina qualified for the quarterfinals of Indina Wells where he meets Andy Murray (No. 3 worldwide).