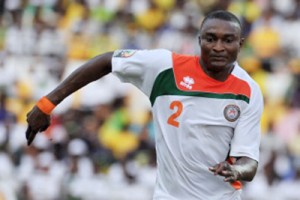 The Niger coach Gernot Rohr has called 30 players for the match against Burkina Faso as part of the third day of qualifying for the World Cup Brazil 2014.
No surprise: Moussa Maazou, the iron lung of Mena always present in the group!
Goalkeepers : Daouda Kassali, Saminou Rabo et Moussa Alzouma
Defenders : Bachar Mohamed, Kourouma Fatogoma, Koffi Dankowa, Bachirou Konaté, Kader Yacouba, Bouhari Bassirou, Kader Amadou et Ismael Alassane.
Midfielders : Lancina Karim, Issiakou Koudizé, Mohamed Soumaila, Ali Mohamed, Souleymane Sacko, Boubacar Talatou, Abdoulmoumouni Adamou, Mohamed Wonkoye et Massaoudou Nouhou.
Strikers : Moussa Maazou, Issa Mossi, Abdoulrazak Ali, Nasser Nomaou, Modibo Sidibé, Idrissa Seydou, Moutari Amadou, Issoufou Garba et Loukoumane Nouroudine.