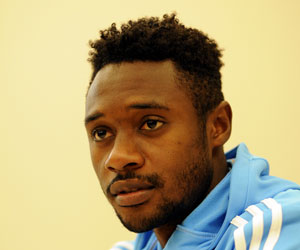 Recent media outlets of Nicolas Nkoulou make his future uncertain at OM.
The Cameroonian defender seems to be increasingly tempted by departure this summer. Similarly, the financial difficulties of the OM are known to all.
If the Olympian club cannot qualify for the next Champions League, one or two high-value players will be sold.
This is the case with the indomitable Lions whose side in the Premier League is very high. To believe the information Sky Sports, Nkoulou could leave the Canebière this summer.
"I want to finish the season well and then we'll see, said the Cameroon defender in English media. I love Marseille. I'll be happy if everyone is happy. "
Under contract until 2015, the defender had already cast serious doubt on his future in the last two Clasicos against PSG. "I'm under contract with OM, I'll try to respect my contract, now as you know it quite a lot can happen, there are deals which therefore cannot be denied," he had released on RTL on February 25.
According to Skysports, OM will not oppose his departure in case of a good offer. Several English clubs including Arsenal would be willing to take action this summer. The player, meanwhile, wants to focus on the end of the season with OM.
A check for € 12 M, which represents a certain added value and the best defender of Marseille could league 1 for the Premier League.