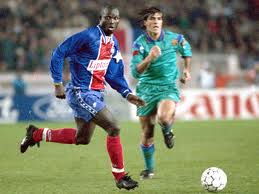 PSG versus FC Barcelona is one of the exciting match of this Champions League's quarter finals after the draw at Nion in Switzerland.
Apart from the beginning of this season when the two teams met in charity match, PSG and FC Barcelona have already had occasion to face each other in the same stage of the competition. That was in 1995: 18 years later, they meet again!
After a 1-1 draw at the Camp Nou, the Parisians had dominated the Blaugrana (2-1). And yet, the Parisians were overcome (0-1) against a team player. It was due to the efforts of Rai and Guérin who turn the tide and reach the semi-finals.
It was in the era of Louis Fernandez. Will history repeat itself on 2 or 3 April before the return match at Camp Nou?
[youtube]http://www.dailymotion.com/video/x6ynn6_psg-2-1-fc-barcelone-c1-94-95-but-d_sport[/youtube]