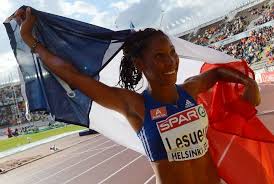 Eloyse Lesueur is born July 15, 1988 in Créteil . She is a French athlete practicing the long jump. 2012 European champion in the discipline, she is also the record holder of France in the long jump Indoor.
Career
Specialist in the 100 meters and heptathlon in her infancy, Eloyse Lesueur quickly focuses on the long jump event. Trained by Renaud Longuèvre, she won the silver medal in the 2005 World Youth Championships in Marrakech. Winning her first national title Outdoor in Tomblaine in 2006 with the mark of 6.47 m, the French ranks second in the European Junior Championships in 2007 behind teammate Manuela Galtier.
Bronze medalist at the European Championships Kaunas hopes with a jump of 6.72 m and participated the same year in the World Championships in Berlin but was eliminated at the stage of qualifications.
In 2010, injured in the hamstring during the meeting Areva of Paris-Saint-Denis, mid-July, she forfeits the European Championships in Barcelona
On September 18, she won in Nice, the DecaNation with a jump to 6.91 m (0.8 m / s), establishing the 4th World saison4 performance.
In June 2012, she took second place in the competition of the long jump in Prefontaine Classic of Eugene, fourth stage of the Diamond League. With a slightly too strong wind (+2.1 m / s), she jumps to 6.83 m at its sixth and final attempt, a centimeter less far than the British Shara Proctor. With this second place, it is ahead of American Brittney Reese, double world champion title, finishing in 7th place (6.48 m) 5. June 28, 2012, she won the gold medal at the European Championships in Helsinki with a jump of 6.81 m, including beating Belarus Volha Sudarava and Norwegian Margrethe Renstrøm.
In March 2013, she finished second at the European Indoor Championships in Gothenburg, beating her three consecutive national records in 2008, with jumps of 6.85, 6.87 and 6.90 m.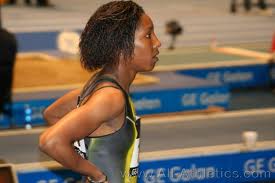 Palmares
2005: 2nd in Long jump with 6.28 m at the World Youth Championships in Marrakesh
2007: 2nd in Long jump with 6.34 m at the European Junior Championships in Hengelo
2008: 4th in Long jump with 6.60 m at the World Indoor Championships in Valencia
2009: 3rd in Long jump with 6.72 m at the European U23 Championships in Kaunas
18th in Long jump with 6.40m at the World Championships in Berlin
2010: 1st in Long jump with 6.78 m at the European Team Championships in Bergen
2011: 4th in Long jump with 6.59 m at the European Indoor Championships in Paris
2012: 1st in Long jump with 6.81 m at the European Championships in Helsinki
2013: 2nd in Long jump with 6.90 m at the European Indoor Championships in Gothenburg
Personal bests
-11.57 in 100 m on July 13, 2005 in Marrakech
-24.11 in 200 m on July 16, 2006 in Dreux
-2:21.67 in 800 m on June 24, 2006 in Val-de-Reuil
-13.89 in 100 m hurdles on August 18, 2006 in Beijing
-1.75 in High jump on June 3, 2006 in Arles
-6.91 in Long jump on September 18, 2001 in Nice
-10.20 in Shot put on August 18, 2006 in Beijing
-27.34 in Javelin throw on June 24, 2006 in Val-de-Reuil
-5320 in Heptathlon on June 24; 2006 in Val-de-Reuil
-6.42 in 50 m on February 16, 2008 in Bordeaux
-7.34 in 60 m on February 25, 2012 in Aubière
-6.90 in Long jump on March 2, 2013 in Gothenburg
[youtube]http://youtu.be/One3RdPv7ic[/youtube]
[youtube]http://youtu.be/5FtfIdyzd_E[/youtube]
[youtube]http://youtu.be/ccyHMOVkI-g[/youtube]