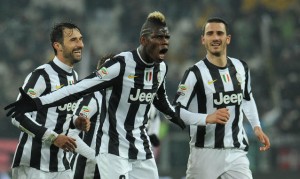 Footballers born in March are surging. Today March 15th is the anniversary of the talented Paul Pogba.
Member of the Blues since a few hours, Pogba is the future of French football. The Franco-Guinean breaths this Friday his 20th candle
From Manchester United to Juventus, Pogba is on the way to become one of the football geniuses in the World.
"I'm following Pogba since a while. He carries out good performances with his club, he is a player for the future and the future is turning into reality today, "said Deschamps in press conference. "I want him with us, whether through group life or training sessions."
The youngster played 20 games with the Old Lady this season, including 13 as a holder for 5 goals. Often called with the young, the old Mancunian will rub selection A of France.
He was even the captain of cornflowers during the Euro Under-19 years. France bowed in semi-final against Spain (3-3 extra time, 2-4 on penalties).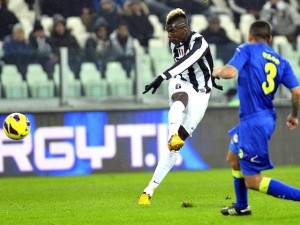 Arrived from deu Havre, Pogba was unhappy with the limited playing time among the Reds devils. (7 games in the first team). He decided to engage with Juventus, provoking the anger of manager Sir Alex Ferguson.
"It's disappointing, I do not think that he showed any respect whatsoever towards us, to be honest, I prefer to see him far away from us," said then the Scotland technician.
Recognizing his talent, Pogba displayed his ambitions before the start of his season in Italy
"The goal of my career is to be the best player in the world. This year, my goal is to make 25 games and be in the top five of the young players in the world. With the team of France, you must skip steps. Here I am under 20, then you have to go in Hopes and then in A. I make the World Cup in Brazil one of my goals. '
After six months, Paul Pogba is on the way of realizing his dreams by becoming one of Juventus best player, qualified for the quarterfinals of the Champions League. He is really appreciated by the coach
"He has a very good way of hitting the ball that he uses quite well. A midfielder with offensive capabilities, it is always interesting, "said Didier Deschamps.
Already at the age of 20, he broke a record. He is the first French player of the Series A, to be convened by DD.
[youtube]http://www.dailymotion.com/video/xxtvpy_la-tete-victorieuse-de-raphael-varane-contre-barcelone_news[/youtube]
Read also:
France Team: Paul Pogba, beautiful surprise! Video
France Team/ Pogba: "The worst is yet to come"
France Team: Pogba, the heart or the reason!