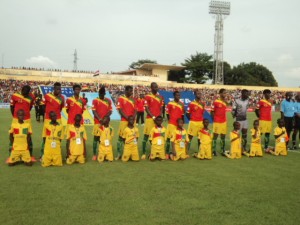 Two goalkeepers, six defenders, five midfielders and seven Strikers, this is the list of 21 players Syli national of Guinea held by the French coach Michel Dussuyer to compete in Mozambique on March 24 in Maputo, for the account the third day of qualifying for the World Cup Football, Brazil 2014.
Among the players selected, only the second goalkeeper Keita Abdul Aziz, play in Guinea. All the rest plays in the Maghreb, Asia and finally Europe.
Michel Dussuyer dismissed the oldest, the former captain Pascal Feindouno, Dian Bobo Balde and the benefit of the younger generation as Sadio Diallo, Ibrahima Traoré, Lass Bangoura, Razzagui Camara. But he keeps the old defenders: Kamille Zayatte and Oumar Kalabane.
The fans who waited, for example, the selection of Kevin Constant of AC Milan and Paul Pogba who plays for Juventus, have to wait again because they were not selected.
According to reliable sources, the match scheduled on March 24 at the Estadio Nacional do Zimpeto of Maputo will be led by a trio arbitral of Sudanese and a Commissioner from Swaziland.
Goalkeepers :
Aboubacar Camara, CD Alocyano (Spain)
Keïta Abdoul Aziz Horoya AC (Guinea)
defenders :
Bah Thierno Al Taawon (Saudi Arabia)
Ibrahima Diallo Angers (France)
Kalabane Oumar, FC Qalaba (Azeirbaidjan)
Florentin Pogba, CS Sedan (France)
Sylla Issiaga, FC Toulouse (France)
Zayatte Camille, Istanbul Buyuksehir (Turkey)
Midfielders :
Aboubacar Camara, EGS Gafsa (Tunisia)
Lanfia Camara, WS Woluwe FC (Belgium)
Ibrahima Conte, Zulte Waregen (Blegique)
Sadio Diallo, Stade Rennais FC (France)
Mohamed Diarra, BK Odense (Denmark)
Strikers :
Alhassane Bangoura, Rayo Vallecano (Spain)
Abdoul Camara Razzagui, PAOK Salonika (Greece)
Saliou Cissé, Academica Coimbra, Portugal
Mathias Pogba, Crew Alexandra (England)
Soumah Seydouba, Slovan Bratislava (Slovakia)
Ibrahima Traoré, VFB Stuttgart (Germany)
Yattara Mohamed Lamine ESTAC Troyes (France)