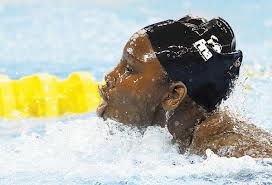 Born on January 25, 1999, Rebecca Adzo-Kpossi experiences the Olympic Games at only 13 years.
Youngest of the 30th Olympiad, the Togolese took the start of the first round of the 50-meter freestyle female by invitation in the context of "the universality of games."
Kpossi has already participated in an international competition in 2011 at the world championships in Shanghai.  A first competition of 88 swimmers, very difficult during which she finished 87threalizing her best time (44' 60"). For comparison, the Swedish world champion Therese Alshammar had won in 24 seconds and 14 hundredths!
Adzo-Rebecca began swimming at the age of two years under the guidance of his father Komi Kpossi.
But swimming not being a popular sport in Togo, she is compelled to train in the pool of a hotel in Lomé. The Togolese capital, to the image of the country, does not have an Olympic swimming pool, or any other structure of swimming.
Kpossi Adzo Rebecca was nominated for the title of Best Hope for 2012 Africa Top Sports Awards.