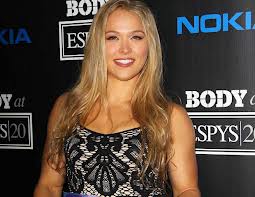 Ronda Jean Rousey was born on 1stFebruary, 1987; she is an American mixed martial artist and judoka. She is the first and current UFC Women's Bantamweight Champion, as well as the former Strikeforce Women's Bantamweight Champion. She has defeated all of her opponents by armbar in the first round. Rousey became the first American woman to earn an Olympic medal in Judo at the Summer Olympics in Beijing in 2008.
Rousey trains under Gokor Chivichyan of the Hayastan MMA Academy, and Edmond Tarverdyan of the Glendale Fighting Club. She formerly trained at the Olympic Training Center in Wakefield, Massachusetts under guidance of Jimmy Pedro and is now part of Team Hayastan in Santa Monica, California. Rousey also trains with Romanian Leo Frîncu and Gene Lebell, along with Team Hayastan fighters such as Manny Gamburyan, Karen Darabedyan, Karo Parisyan and Sako Chivitchian. She is managed by Darin Harvey of Fight Tribe MMA. In July 2012, Rousey enlisted former undefeated boxing and kickboxing champion Lucia Rijker as striking coach.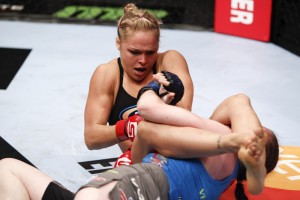 At 17, Rousey qualified for the 2004 Olympic Games in Athens, becoming the youngest judo competitor in the entire Games. Also in 2004, Rousey won a gold medal at the 2004 World Junior Judo Championships in Budapest, Hungary.
In April 2006, she became the first U.S. female athlete in nearly 10 years to win an A-Level tournament as she went 5-0 to claim gold at the Birmingham World Cup in Great Britain. Later that year, the 19-year-old won the bronze medal at the Junior World Championships, becoming the first U.S. athlete ever to win two Junior World medals.
[youtube]http://www.youtube.com/watch?v=cwM5f42w8cw[/youtube]
[youtube]http://www.youtube.com/watch?v=zo4hyi7rssw[/youtube]