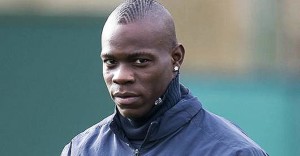 Guest on the Italian show, Le  Iene, the striker of AC Milan, Mario Balotelli took the opportunity to express what he thinks of journalists.
According to the former Manchester City player known for both his performance on the lawn and also for his escapades, it is the press that caused his misfortunes.
"Some people really do not know how to earn their living and try to take advantage on others. Gossips are one thing. But what these people would do is almost criminal. Many of the stories that are told about me are false. I would say that there is only 0.01% of truth left in it, "said Balotelli.
The Italian international has cited in the course of the show his favorite players. "There are three players I really admire because they are better than me. This is Lionel Messi, Zlatan Ibrahimovic and Cristiano Ronaldo, "said Balotelli.
Super Mario is proving good since his move to Italy. He scored 5 goals in 5 games in the league. He is the author of a brace against Parma on Sunday at the 29th day of the Serie A.
See also:
http://en.africatopsports.com/2013/02/27/picture-of-the-day-super-mario-super-everywhere/