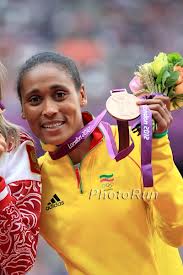 Sofia Assefa is an Ethiopian long-distance runner who is specialized in the 3000 meters steeplechase.
She was born 14 November 1987 in Addis Ababa.
Career
She finished thirteenth at the 2009 World Championships and fourth at the 2009 World Athletics Final. She also competed at the 2008 Olympic Games without reaching the final.. She finished third in the 2012 London Olympics on 3rd steeplechase.
Palmares
– 2009: 13th in 3000 m steeplechase at the Berlin World Championships
– 2009: 4th in 3000 m steeplechase at the Thessaloniki World Finals
– 2010: 2nd  in the 3000m steeplechase at the Diamond League
– 2010: 3rd in the 3000 m steeplechase at the Continental Cup Split
– 2012: 3rd in the 3000m steeplechase at the London Olympics
Records:
– 9 min 09 s in the 3000 m steeplechase at Oslo on June 7, 2012
-15 min 59 s 74 in the  5000 m at Liège on July 25, 2007
-6:33.49 in the 2000 m steeplechase at Benidorm on April 14, 2007
[youtube]http://www.youtube.com/watch?feature=player_embedded&v=kU4LfXpWmUc[/youtube]
[youtube]http://www.youtube.com/watch?feature=player_embedded&v=dpraesZWrrc[/youtube]
[youtube]http://www.youtube.com/watch?feature=player_embedded&v=6XbvwC4j0bk[/youtube]