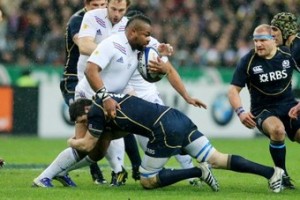 The 2013 edition of the VI Nations tournament ended Saturday with the last day which was fatal for the XV de la Rose and happy for the XV de France, which recorded its first win over Scotland, 23 -16.
Having missed the tournament with one point before facing Scotland at the Stade de France, the Bleues (white on the images) were able to reverse a bad start situation (0-6 at halftime) to win 23-16.
After the boot of Frédéric Michalak who brings France to the equality, the XV tricolors took control on a trial of Wesley Fofana that concluded to the breakthrough of Mathieu Bastareaud relayed by Yannick Nyanga.
Two other trials are included in this game (one for each team). France was imperative but ended the last. For Captain Thierry Dusautoir, although the XV of France misses its tournament, not everything has been negative during the tournament. "The group has learned a lot during this competition. It ends with a victory for the team was able to stay strong mentally. '
Let's go to the Grand Slam, England has been showered by the Wales 30-3. A victory that allows the Welsh to retain the trophy.
The Result of the last day
Italy, Ireland: 22-15
Wales-England: 30-3
France-Scotland: 23-16
final
1 – Wales8pts
2 – England 8pts
3 – Scotland 4pts
4 – 4pts Italy
5 – 3pts Ireland
6 – 3pts France