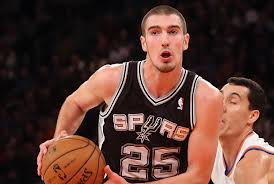 It was just a few tips to achieve to his ends. And it did not fail to Nando De Colo. Wandered three times to D-League to the NBA, Nando De Colo handles this situation with professionalism, and that's exactly what it takes to seduce Gregg Popovich impressed by the performance of the French against Cleveland.
"I think Nando has done a great job, especially since it had been a long time on the bench" recognizes Popovoch in the San Antonio Express News. "He had the chance to show in two halves, and he played really well. Not only because he was clever, but because he attended and was ready to play. This is a great professional attitude. "
"It is not easy as situation, but be aware that we are a team and the coach can call you at any time. We must be ready and be on aggressive. That's the most important being aggressive. "
Nando De Colo has compiled 11 pts, 4 rbds à 4/6 shots face to Cavs in 24 min.