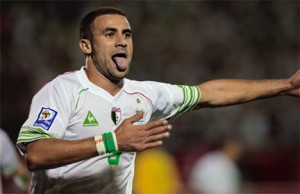 It was not until the 31st day to see the Algerian international Abdelkader Ghezzal open his goal counter, for the account of the Italian Serie A season.
Holder for the 7th time this season, Ghezzal helped Bari to take a point against Bresia (1-1) after a nice goal from 25 meters.
Deprived of the lawn for three months following his injury, the 26 years old left-winger has not scored a single goal with the team A since May 13, 2012.
In January, Ghezzal scored a double.
[youtube]http://www.dailymotion.com/video/xy9bmg_ghezbrescia17032013_people[/youtube]