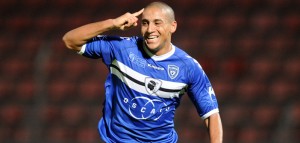 New game day of the championship in five majors this weekend. A special mention for the Tunisian, Bastia Wahbi Khazri author of impressive match against Lyon. For once, the Gabonese Pierre-Emerick Aubameyang has remained silent. We offer you the balance of the weekend of Africans.
France
The weekend has not really smiled at the heavyweights of League 1. The dolphin of PSG, Lyon has heavily fallen against Bastia (1-4). The Tunisian, Wahbi Khazri author of a goal and two assists was named man of the match.
Salomon Kalou went through all the emotions in the meeting Lille-Evian Thonon Gaillard. First goalscorer for the Mastiffs, the Ivorian misses the penalty of the 2-2. Meanwhile, the Tunisian Saber Khlifa restores the scoring for the Savoyards before the Burkinabé Djakaridja Koné makes Kalou score against his side. Final score 2-1 for Evian.
Heavily beaten last weekend, Reims regained by dominating Rennes 1-0. This is the achievement of the Malian defender Mohamed Fofana who has scored the only goal of the game.
Lorient has not made a gift to Brest. 4-0 is the final score with a fourth goal signed by the Franco-Togolese Gilles Sunu.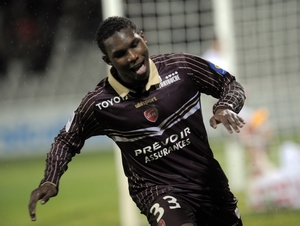 Dual of African scorers in the match Valenciennes-Sochaux, but no winner. The Algerian Ryad Boudebouz scores for Doubistes, but the Franco-Senegalese Opa Nguette (photo right) restored the parity in the last few minutes (1-1).
Djamel Bakar keeps Nancy afloat. The Comoros is the only scorer in the match against Nice.
In the shock of this 29th day between Saint-Etienneand PSG, Pierre-Emerick Aubameyang of Gabon has remained silent. The opposite for the leader scorer of the League, Zlatan Ibrahimovic, author of a penalty. Final score (1-1).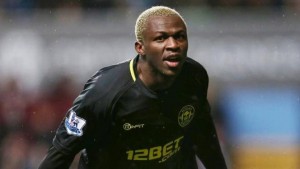 If his team overcame Manchester City (2-0), the South African Steven Pienaar has not gone after the match. The Everton midfielder saw red after the 58th minute.
England
Wigan can say thank you to Aruna Kone. The Ivorian won the three points for his team against Newcastle, scoring the goal of 2-1 in the 90th minute.
Germany
Two goals in as many games for Mathis Bolly. The Norwegian of Ivorian origine scores for Fortuna Dusseldorf before Wolfsburg returns to the mark (1-1).
Spain
No African scorers. Note the eighth goal in the league for the Frenchman of Algerian origin Karim Benzema in Real Madrid's victory against Mallorce 5-2.
Italy
African strikers remained silent. The Italian of Ghanaian origin Mario Balotelli scored two goals in Milan's 2-0 win over Palermo. The decisive pass to the second embodiment is to the credit of the Franco-Senegalese Mbaye Niang.