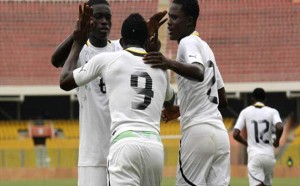 Do not worry. This time, it is not a player or a federation that has mistaken. It is the CAF (Confederation of African Football) which is in error.
Ebenezer Assifuah, the striker of the Black Satellites of Ghana in Afcon U20 would be 14 on the papers of the CAF. A story that has intrigued the Ghanaian media.
Ebenezer then played for two seasons in the Ghanaian Championship, difficult to conceive the advanced age by the governing body of African football. "It was a mistake on our part that led us not to write his exact age. We corrected it "revealed Hicham El Amrani, Secretary General of CAF to Supersport.com.
Ebenezer (19 years old now and was born July 3, 1993) is mentioned as being born July 3, 1998 on the papers of the CAF. Everything is back to normal.
Ebenezer Assifuah already impressive in Afcon U20. He has two goals in as many games. It was he who led Ghana onTuesday to take the first three points in the competition against Benin. Liberty Professionals player in the league in Ghana, he has already scored 7 goals since the start of the season.
Youth competitions in Africa are often subject to lies about the actual age of the players. But since the introduction of MRI by CAF few frauds are detected.
Read also:
http://en.africatopsports.com/2013/03/20/afcon-u20-egypt-first-qualified-for-the-semis/