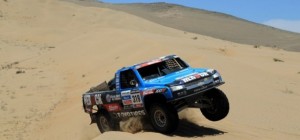 The organizing staff of Dakar on Wednesday unveiled the 2014 journey of the largest motorcycle and car rally on the planet. This edition which starts on January 5 crosses Argentina, Peru and Bolivia. A first in the South American country.
Bolivia is crossed by the rally for the first time. This is the 28th country crossed by the Dakar. The race will start in Rosario, Argentina and will end in Valparaiso, Chile.
"For the first time, competitors of the Dakar will bivouac in two different countries at certain times of the 2014 edition. Motorcycles and quads will be in Bolivia while cars and trucks will be on the border between Argentina and Chile, "said Etienne Lavigne, director of the event.