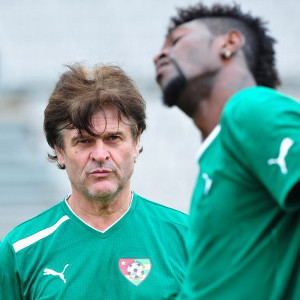 Here what will cool the ardor of the supporters of the Hawks and at the same time place the technical staff.
Emmanuel Adebayor will miss the next meeting of Togo against Cameroon in the playoffs of the 2014 World Cup. No reason was unveiled to explain this absence.
Several local media announced the return in Lome of the Togolese star on Tuesday. But the Tottenham striker is already gone to London via Accra, Ghana. According to his surroundings, Adebayor has just come to see the family (especially his mother).
He is the second package in the ranks of the Hawks after that of Kossi Agassa. This latter will cure a knee sore in his club. But according to several observers, the two frames of the selection sulk because of the refusal of coach Didier Six to integrate them into his initial list.
However, doubts persist about the presence of the Ayité brothers (Floyd and Jonathan).
Remains to see whether the French technician will look for replacements or not. In Yaoundé since Tuesday, the Hawks (9 only) have not yet trained.
Read also:
http://en.africatopsports.com/2013/03/20/world-cup-2014cameroun-togo-only-9-hawks-of-togo-grouping-in-yaounde-on-tuesday/