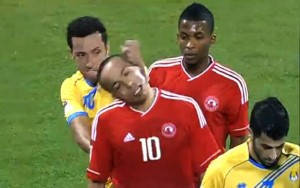 Tantrums of the former Parisian Néné. The midfielder has literally attacked the Moroccan Houssine Kharja in one of the derbys of Qatari championship.
Al Gharafa, the club of Néné and Djibril Cisse faced Al Arabi, the formation of the International Lion of Atlas.
The match turned into a general fight.
Excluded for a second warning, Néné hit Houssine Kharja. Then the Franco-Moroccan formed in PSG replicated by loading the Brazilian southpaw.
And Djibril Cisse could not calm all these people.
[youtube]http://youtu.be/v8plfVzqc7k[/youtube]