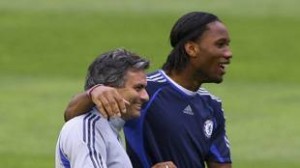 Jose Mourinho, the coach of Real Madrid does not think that his quarterfinal of the Champions League against Galatasaray, a less competitive club beforehand.
He fears even though Didier Drogba has not been selected by the coach of Côte for the next qualifying match for the 2014 World Cup.
He just said today:
"It will be hard. We must try to get a positive result in the first match at home, what we have not done against Manchester (1-1 in Madrid). We must go there with a small advantage. Sunday, I went to Turkey and I found a team that knows very well the Champions League with two former winners of this competition, Drogba and Sneijder, but also players that have evolved in the best teams like Eboue in Arsenal, Felipe Melo in Juventus, Riera in Liverpool and Muslera in Lazio. "
The first leg will take place on April 3 at Santiago Bernabeu and the second leg is scheduled in Turkey on April 11.