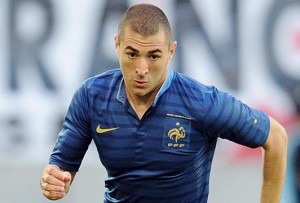 Second in Group I of the 2014 World Cup playoffs in Europe, France has two games to play between 22 and 26 March at the Saint Denis Stadium.
But between the two dates, the meeting of March 26 is the one which polarizes the public's attention the most. And because the Blues of Didier Deschamps will face Spain, leader of the group with a better differential.
Received in the show "Luis Attack" on RMC, Karim Benzema was questioned about the appointment. The Real Madrid striker believes that there is no reason to fear the World defending Champions: "it is a good team, everyone knows, but do not put pressure. We are playing at home, it is a match for the qualification, and we must fight and play the same game as the one at their house. Against Spain, we know we will not see the ball. But let's try to play the cons as we did at their house. If we play, we can make them doubt. "
During the first leg, the Blues had forced the Roja at the sharing of points (1-1) thanks to a game-tying goal by the Arsenal striker, Olivier Giroud.
But before March 26, Benzema and his teammates will face Georgia on March 22. Two games in which the Franco-Algerian will have the opportunity to respond to the criticisms on the lawn.
Read also
http://en.africatopsports.com/2013/03/19/team-of-france-lassana-diarra-we-must-watch-our-words-while-being-a-coach/