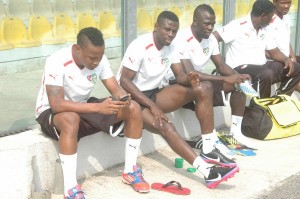 The arrival of the Hawks in camp is finally in small groups. According to the program established by FTF (Togolese Football Federation), no training session is scheduled in Lomé.
However, "the Hawks will land in Yaounde on Tuesday evening and will be joined in the same evening by the rest of the team from Europe for a three days training before Saturday's game."
The players of the Togolese national team have arrived in the Cameroonian capital, but in reduced numbers. In total, eight players took the air on Tuesday at around 14h GMT in Yaoundé. There they joined the premises of Djen Dakonam. In addition to the player of Coton Sport of Garoua, Daré Nibombé, Atsou Mawugbé, Kokou Donou, Fessou Placca, Serge Akakpo, Lalawele Atakora, Kodjo Amétépé and Moustapha Salifou are present.
Housed at Djeuga Palace Hotel, the group of Didier Six should be complete this Wednesday with the arrival of Serge Gakpé, Alaixys Romao and Baba Tchagouni, Kalen Damessi and SAPOL Mani.
Dové Womé, Sadat Ouro Akoriko, Vincent Bossou, Gafar Mamah and Komlan Amewou despite their presence in Lome on Tuesday did not go with the group. No reason was unveiled to justify this strategy. If Kossi Agassa has already forfeited, there is uncertainty on the participation of the Ayité brothers and Emmanuel Adebayor.
Togo faces on Saturday in Yaounde Cameroon's Indomitable Lions for the third day of the FIFA World Cup 2014 playoffs.
Read also:
http://en.africatopsports.com/2013/03/20/world-cup-2014cameroun-togo-etoo-and-the-indomitable-lions-in-the-battle/