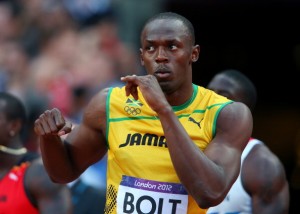 The world best sprinter, Usain Bolt will take part in the next edition of the Memorial Ivo Van Damme on September 6, announced in Brussels on Wednesday by the organizers of the competition.
The presence of the athlete in Belgium will cost at least $ 300,000 to the organizers of the meeting. But that does not discourage the Golazo boss, Bob Verbeeck  who is rather proud to see the athlete with him.
"He could go elsewhere and earn a lot more money. Everybody wants him. If Bolt asked $ 1 million, there would be meetings that will pay it. Not less than twenty meetings wanted him this year, and he has now accepted only six, including ours, "said Wilfried Meer.
Usain Bolt will make his sixth participation at the meeting in Brussels. According to Eurosport.fr, the six times Olympic champion opens his European season in Rome on June 6, the fifth stage of the Diamond League. He continued his tour of the Old Continent by running the 200 meters of the Oslo meeting, the sixth stage of the major circuit on June 13. He will also be at the meeting in Paris / Saint-Denis, July 6, still half-lapping.