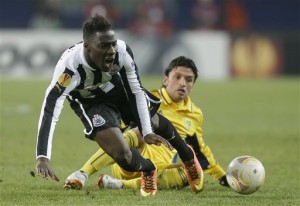 The left side of Newcastle, Massadio Haidara suffering from a big knee contusion after a nasty tackle from McManaman, regains his health. The French-born Malian expressed in the columns of Le Parisien his fear to see his future broken.
"I will get re-examined on Wednesday. The ligaments of the knee are not affected. I'm really relieved. At the time, I was very scared. I thought McManaman had broken my leg softly or killed the knee. I have not forgotten anything. I had never seen such a tackle my whole life and then such a tackle was mine. When I look back, I shudder, "said the Newcastle player.
Massadio Haider has decided to make a break with the past and look to the future. "I was told that McManaman wanted to talk to me. There is the language barrier, but I think we will try to do it with an interpreter. I stepped back and I do not blame him, "said the French very surprised when he learned that his executioner will not be penalized.
"It's hard to swallow. I do not understand. He could break my career and my life and replay soccer before me! This is ridiculous. Players must be protected. Such things cannot be tolerated in football, "yells Haidara
The video of the fault of McManaman on Haidara
[dailymotion]http://www.dailymotion.com/video/xyaa3c_l-enorme-faute-de-mcmanaman-sur-haidara_news#from=embediframe[/dailymotion]