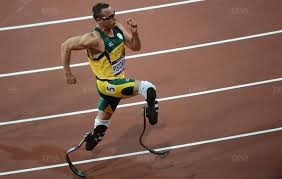 Soon a new book on the market. This book will retrace the history of Oscar Pistorius, the handisport champion, accused of shooting his girlfriend, Reeva Steenkamp in the morning of the Valentine's Day.
The book will be published at the end of the trial of the South African athlete. The drafting was entrusted to Mandy Wiener, journalist and author of Best-Seller and a court reporter, Barry Bateman.
The book has a provocative title: "Behind the door: the story of Oscar and Reeva".
Pistorius shot his girlfriend, Reeva Steenkamp on February 14 when she took refuge behind the door of the bathroom to be away from her husband. The athlete defended himself stating that he mistook his girlfriend for a burglar.
According to the indictment, the couple had had a dispute.
The book "will explore the characters, focusing obviously on Oscar Pistorius and Reeva Steenkamp. It will also recount what will be achieved at the court and reveal the evidence and expertise, with the backdrop of the conduct of the police investigation, the criminal justice system in South Africa, the culture of violence in South Africa and the need for the society to create imperfect heroes destined to fail, "according to a statement from Pan Macmillan.
Read also:
http://en.africatopsports.com/2013/03/12/oscar-pistorius-has-he-killed-his-girlfriend-out-of-jealousy/