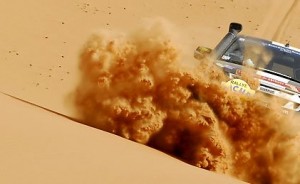 Crews vying for the 23rd Rallye Aicha des Gazelles have attacked the first step (E1) on Thursday.
300 scorpions (Gazelles) are divided into three categories : Cross-over, 4 × 4 (trucks) and Quads (motorcycles).
African race crews also fighting for Africa Top Sports Trophy are in category 4 × 4.
After the prologue, Wednesday, Gazelles undertake the first stage dedicated to Diana Holding Foundation. "The Foundation was created in 2012, but Diana Holding Moroccan food group in 1956. It has always taken action against citizens and young women. It is in this context that we support women of Tamsguidat in literacy classes, "says Sabrina Bouzidi, group development director came to launch the start of the race.